The story of Dylan's last days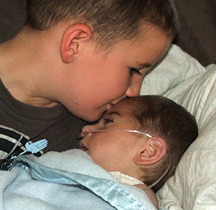 On Wednesday the 28th of April 2012, Dylan was experiencing breathing difficulty and was not feeding. By the evening he developed a high temperature and he was kept on oxygen overnight. On the morning of Thursday the 29th of April 2012, we decided to contact the Palliative Care nurses requesting that they come and assess Dylan at our home.
After arriving and assessing him we were advised by the nurses that our beautiful little Dylan was dying. We knew that he was not well but we did not expect to hear that he was at the end of his journey. Our main aim for Dylan was to make sure he was kept comfortable during his last hours, and that he was given lots of love and cuddles. Aunty Melissa was wonderful and was not only his Aunty but his nurse during his last hours. She worked with the Palliative Care team, monitored his pain and gave him morphine as required. Some of our other family members arrived throughout the day and gave our special little Dylan lots of love and cuddles, and provided support to Darren, Ben and I.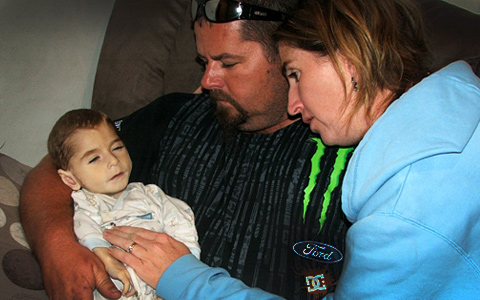 Early that evening our beautiful little Dylan passed away PEACEFULLY in Darren's arms with me by their side. We knew life for our little Dylan would be short and that time was precious. We ensured that his end of life plan was followed during his last hours, and we can be reassured that he was kept comfortable until his last breath, and that he was given lots of love.
After he passed away the Palliative Care team returned and took beautiful hand and footprints, and we cut a strand of his hair from his head, which we will treasure forever. Dr Jenni Brown arrived and she also provided support throughout the day.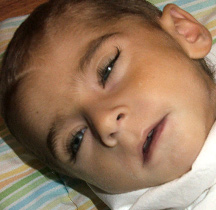 Darren and I agreed that we wanted Dylan to stay with us for one more night. This was our time with our special little Dylan. I held him so tight all night and the following morning. He looked at peace and he is now our beautiful little angel.
Toscan and Dinn (funeral directors) arrived just before lunch time on the following morning to collect Dylan. This was an extremely difficult time for all of us. Darren and I placed Dylan in a little sleeping bag and placed him in their vehicle. We watched, and were devastated when they drove away with our little Dylan. We went and said our goodbyes one more time to our little angel at the viewing. He looked beautiful and at peace in his tiny little white coffin.
In the days to come we were flooded with cards/flowers/food/visitors and plants, thanks to all. Also a special thankyou to the following people:
Dr Jenni Brown for her ongoing support and dedication with ensuring that Dylan had quality of life.
Palliative Care nurses and Aunty Melissa for ensuring Dylan was kept comfortable and for supporting us during his last hours.
Peter and Anna at Toscan and Dinn for coordinating all of the funeral arrangements and for their support.
Sonia Sheppard
12 April 2012
Dylan and Cody's special places »