The story of Cody's last days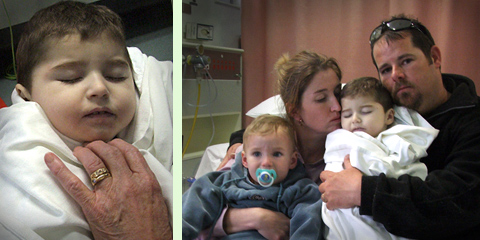 On the morning of Tuesday the 4th of September 2007 I was very concerned as Cody had woken up with lots of blood over his face as a result of vomiting blood throughout the night. This wasn't the first time he had vomited blood, and there was more than the normal amount. There was also blood coming up out of the jejunal tube. It wasn't the first time this had happened. I had syringed approximately 50ml of blood from his jejunal tube.
Seeing as though Darren was at work I took Cody and the syringe with blood in it to the Paediatrics ward at 9.30am. At the time of arrival I was seen by a nurse in Paediatrics, and she attempted to get Cody in to see his Paediatrician. An hour later we were advised by the nurse that Cody's Paediatrician was too busy to see him. Cody however was seen by a Paediatric registrar who advised that Cody had a gastro bug, and high temperature. She advised that we return later that afternoon due to no beds being available in the Paediatrics ward. At this time she had advised us that Cody would be seen by one of his doctors when we returned, and that she would provide him with details of the events that had occurred during the previous 24 hours.
After settling Cody into his room we were advised that Cody's Doctor would not be able to see Cody that day. Out of anger and frustration Darren went on a search for Cody's doctor, and managed to track him down within the hospital. Darren returned to the room with Cody's doctor. At that time Cody's Doctor assessed Cody, and informed us that he would take out the jejunal tube in the morning and replace it with a normal Mickey button. He then went on to tell us that the bleeding may be a result of the lining of the stomach being upset by the new insertion of the jejunal tube, and that Cody having a case of the gastro bug wouldn't be helping the cause. One thing that will always stick in our minds is the Doctors last words to us which were "I want to reassure you both 100% that Cody will be fine". We questioned why he was losing blood, and he responded with "It is not uncommon for children like Cody to have loss of blood".
During the evening they took bloods from Cody, kept him on IV fluids, and I continued to feed him via the feeding pump.
Darren kissed Cody goodbye as he was required to take our other son Ben home. Throughout the night Cody's temperature was continually rising, and at one stage it reached 41.8. I initially stripped all his clothes off him, continued to give him cold washers, and tried to keep him as cool as possible. The nurse advised me that there was nothing else I could do to try to keep his temperature down.
That night my sister Katherine came to visit Cody. Katherine brought me dinner and gave me a couple of laughs. Cody was very unsettled during this period and into the night. He was thrashing himself about the bed, and was very uncomfortable.
In the early hours of Wednesday the 5th of September 2007 Cody finally started to relax, and I managed to doze off to sleep in the bed beside him. I woke to the voices of the nurse and the Doctor who were on either side of Cody's bed. I stood up and said "what's happening is he alright?" The nurse responded with "Cody has stopped breathing for a short period". My heart dropped. I couldn't talk and within the next couple of minutes I was shuffled to the back corner of the room, and there were up to 10 medical staff in the room trying to revive him.
Seeing our special little Cody boy being revived was the scariest thing that I had ever witnessed in my whole entire life. It is something that will always stick in my head. I soon ran out of the room, and phoned Katherine. It felt like she took hours to get to the hospital when in fact it would have only been 20 minutes. To me she couldn't get there fast enough, I felt like I needed to collapse in someones arms. I continued to stare out the hospital window and was too scared to return to the room that Cody was in. Whilst waiting for Katherine to arrive I phoned Darren's Sister Melissa.
Katherine arrived, and there were so many medical staff in and outside the room. I did not want to go back into the room; I was so scared, like I have never been scared before. I didn't want to hear what they had to tell me. I sat with Katherine for a while in the waiting area of the Paediatrics Ward. After a short while we made our way back into the room, I had a sick feeling in my stomach like I had never experienced before.
We were advised at this time that they had successfully managed to revive Cody. The Paediatrician on duty at that time took Katherine and me into a room nearby, and we were required to provide him with an overview of Cody and the events that had occurred during the last month. He advised us at this time that Cody was going to be transferred to the Intensive Care Unit of the Canberra Hospital, and that the Westmead Hospital helicopters from Sydney would be called to transfer Cody to the Sydney Children's hospital.
Melissa arrived soon after Katherine, and they comforted me in the Intensive Care Unit, and Melissa then made the phone call to Darren. Whilst waiting for Darren's arrival the Doctor in the Intensive Care Unit met with us. He advised us that due to Cody not breathing for the short period it was likely to cause Cody further brain damage, liver and possible kidney damage. I questioned whether we would still get a reaction from Cody, and the Doctor advised probably not. After a few moments I questioned the Doctor as to whether we had a choice to let Cody go in peace. He advised that we did have that choice and that if he was in our shoes he would make that choice.
Darren arrived, and the social worker arrived not long after. I broke down in Darren's arms, and we were comforted by Katherine, Melissa and the social worker. The social worker and the staff working in the Intensive Care Unit were incredible, and we will never forget them. They were so supportive towards us, didn't rush us, and we couldn't have asked for better support from the medical profession than what we had on that day.
Chelsea and Phil were next to arrive followed by Darren's dad Richard, and his sister Robyn. Robyn was wonderful, and continued to assist and support all of the visitors throughout the day.
Darren and I went to the outdoor area of the Intensive Care Unit and just held each other so tight. When we returned Cody was wrapped in a white sheet. We both held him tightly in our arms, and then my dad Patrick arrived, and sat with us as we watched Cody pass away. I was holding Cody, Darren and Dad were at Cody's side. Cody's breaths were getting longer apart, and at one stage he missed a breath and we all looked at each other as if that was it, but Cody being Cody continued to breathe for a further couple of seconds. I said to Cody and I will never forget it "Cody it's your time now, it's your time to go and get some rest" he then let 2 more breaths out, and then he passed away peacefully in my arms. Cody looked like a little angel. Naturally we all burst into tears, and soon after the rest of the family both Darren's and mine arrived. We spent the rest of the afternoon holding Cody and taking lots of photos of him with the various family members. Some of the nieces and nephews even held Cody and others had preferred not to.
During that afternoon some of the medical team who were close to Cody came to express there sympathy including Melinda, Debbie, and Celine from the Paedatrics ward. This also meant a great deal to Darren and I.
Ben spent some time with Cody before Phil and Chelsea took him home for us and continued to mind him early into the night.
Darren and I had time to ourselves with Cody and that time was so precious. However we were interrupted when the Police arrived to interview us later that day. Looking back now the hardest part of the day was holding Cody in our arms with the Police and the nurse by our sides on the way to take Cody to the hospital morgue. We walked to the morgue and handed our precious little boy over to a complete stranger knowing that it was the first night that we were going home without him. We will never forget how sick, and cold we felt.
Michelle Elmitt who was Cody's physio therapist came to our home that night. She had a huge impact on Cody's life and supported Darren and I throughout Cody's life. She is one person that we will never forget.
In the days to come we were flooded with flowers/food/visitors and plants. Hilary Ferguson from Therapy ACT (social worker) also came to visit, and she was wonderful. Our family and friends gathered together to help us give our special little Cody boy the best send off that he could ever have had. The staff at Toscan and Dinn were absolutely wonderful, and coordinated all the funeral arrangements. Darren and I chose a special spot at the Woden cemetery for Cody. It was and is a beautiful spot easy to find, and under two beautiful trees.
We went to view Cody at Toscan and Dinn premises at Weston. We took the clothers that we wanted Cody dressed in which was a little outfit that mum had bought him for a Christmas present for 2008. We didn't know what to expect as Cody was the first deceased person that we had ever seen. We walked into the room when he was dressed, and the room itself had a fuzzy special feeling about it, peaceful music was playing, the lights were dimmed, a candle was lit, and there in this beautiful little white coffin was our little Cody boy the one that we always will remember. He looked so at peace, and had a little smile on his beautiful face.
A day before the funeral we wanted to go and view Cody for one last time. This time when entering the room and touching Cody he was so cold. Darren's brother Luke and wife Kristy came to the viewing as they had not previously been in the Intensive Care Unit to say there farewell to Cody. They gave us some time with Cody, and they to have some time with him.
The funeral day
What can I say? What an emotional and amazing day. I didn't realise until this day how many lives Cody had touched. I felt very sick to the point where I felt like throwing up. Darren was also very nervous. Jason and Leanne drove us to the church, and on the way Darren recalled that he forgot the fishing rod and box which he wanted to put on the top of Cody's coffin. Jason turned around and got it. When Jason had turned onto Boddington Crescent in Kambah we couldn't believe our eyes. There were cars everywhere on the side streets, in the church car park and in the oval car park behind the church.
I said to Leanne "No way – there must be something on at the school", and Leanne turned to me, held my hand, and said "No Sonia, all of these people are here for Cody." At that stage I was teary and pulling into the church the first two people that I saw was Bernie and Isabelle from Crookwell. These two girls raised money for Cody, and for Malkara school. I broke down at that point. The funeral service went smoothly and the strength of Darren amazed me, and everyone else. I loved him more than ever and the special words that he expressed that day are still fresh in my memory. I was so proud to be his wife and be the mother of his two boys Cody and Ben. After the service outside I couldn't comprehend all the people coming up to me, people that I hadn't seen for years, and definitely people that I never expected to be at the service.
The service at the Cemetery was extremely special. Everyone gathered around and blew bubbles to Cody. Darren and Toscan and Dinn lowered the coffin whilst music played in the background. A massive number of helium colour balloons were released at the end of the ceremony. The day couldn't have gone better even if we had wanted it to.
We will never forget and we will always cherish the time that we had with Cody. He was our special little boy.
Note – The autopsy found that the cause of death for Cody was bilateral bronchopneumonia. The report however suggests that it is possible that an epileptic fit may have, or also, caused death. This was impossible to determine at the time of the autopsy.